The name Mariana Hardwick is synonymous with high quality bridal fashion, and the brand has stood the test of time, why do you think this is?
Quality and silhouettes – our brides are always commenting on how different our gowns feel on and how flattering the silhouettes are compared to our competitors. Also, we believe in less is more, we have an impact but are not frou-frou or over the top – you don't need an unnecessary add-on when the cut is sublime, fit is right and quality superb. To us, that is the definition of a timeless gown regardless of the style.
There is a level of skill and technique that has been developed by our team over decades and this isn't easily replicated. This combined with a fearless and visionary approach to design and fabric development allowing Mariana Hardwick collections to remain at the forefront of bridal fashion.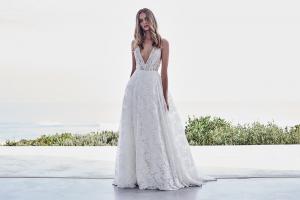 What can a bride-to-be expect when it comes to the Mariana Hardwick experience? 
A bride can expect a high-quality service and advice, free of the "pressure sale" they may experience at other stores. Our consultants love their job and we think it shows, we constantly have great feedback! We have spent the last 35 years perfecting the fittings process and we are acutely aware that we are creating someone's bridal gown and the importance of that.